Adobe Illustrator Intro Training Throughout Northern Ireland
Adobe Illustrator Intro Training in Omagh, Derry, Belfast and Throughout Northern Ireland
Our 2 day Introduction to Adobe Illustrator CS5 CS6 CC is designed to provide delegates with the basics of creating and editing vector graphics in Adobe Illustrator.
Call 028 9032 2228 or email info@mullantraining.com to enquire.
PREREQUISITES 
No experience of Adobe Illustrator is necessary.

BENEFITS
Delegates will learn when to use vector graphics rather than bit-mapped, how to use the comprehensive selection of drawing tools, building up an illustration with objects and using type in illustrations.
COURSE CONTENT
CREATING A NEW DOCUMENT
Profiles for Screen and Print
Resolution
Pasteboard
Save as…
Exploring Illustrator's Templates
ILLUSTRATOR WORKSPACE
Built in Workspaces
Creating and saving a Workspace
The Tool Bar
Using the Control Panel
Organizing Panels
View Options
Basic Navigation and Viewing
Preview/Outline Options
Tabbed open documents
The Application Frame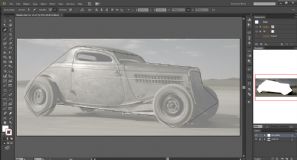 CREATING GEOMETRIC OBJECTS
Basic drawing tools
Shortcuts
The Bounding Box and dimensions
The Strokes panel
Adding colour with fill and stroke
Altering Objects with transformations
Scaling
Rotating
Shearing
Reflecting
Free Transform Tool
Transform Each
PATHFINDER
Combining vector objects
Pathfinder Modes
Shape Modes
STAYING ON TARGET WITH GUIDES
Show Rulers
Creating Guides
Hiding and showing Guides
Locking and unlocking Guides
Smart Guides
Document Grids
Snap-to Features
MOVING, ALIGNING AND DISTRIBUTING
Moving and Duplicating
Transform Menu options
Copying and Pasting options
Group and Ungrouping
Locking objects
Duplicating & Groups
CREATING LINES, SEGMENTS, SPIRALS & GRIDS
Exploring Object Options
Shortcuts
ADDING TYPE TO ARTWORK
Creating Point Text
Creating Area Text
Text Formatting
Area Type Options
Creating Text Threads
The Glyphs panel
Checking spelling
Convert Text to Outlines
Type on a Path tools
STACKING ORDER
Send to Back/Bring to Front
Send Backward/Bring Forward
THE PEN TOOL
Creating Paths with the Pen Tool
Editing Anchor Points
The Direct Selection Tool
Beautiful New Strokes CS5 New!
SELECTION TOOLS
The Selection Menu
Editing Objects with the Direct Selection Tool
Working with Grouped objects
WORKING WITH COLOUR
Colour Panel and Swatches Panel differences
Creating new colours
Editing colours
Global colours
Spot Colours
Creating Swatch Groups
Opening Existing Libraries
Live Paint for easy colouring
GRADIENTS
The Gradient Tool
The Gradient panel
Creating and Editing Gradients
Using Gradient Libraries
DRAWING AND PAINTING WITH BRUSHES
Using Illustrator Brushes
Using Brush Libraries
Different Brush types
Editing Brushes
Creating a Calligraphic Brush
Creating a Scatter Brush
Creating an Art Brush
Creating a Pattern Brush
Bristle Brushes CS5 New!
GRAPHIC STYLES
The Graphic Styles panel
Opening Graphic Style Libraries
Creating and saving Graphic Styles
APPERANCE
The Appearance Panel
Object Attributes
Graphic Styles
Appearance Panel Settings
The Transparency Panel
Blend Options
WORKING WITH RASTER IMAGES
Placing and Masking images
The Links panel
Edit Original
Quick Intro to Live Trace
Rasterizing artwork
SYMBOLS
Exploring Symbol Libraries
Adding a Symbol
Editing a Symbol
Symbol Sprayer Tools
CREATING BLENDS
Creating a simple blend
Expanding a blend to objects
OVERVIEW OF EFFECTS
3D Extrude & Bevel Effect
3D Revolve Effects
Stylize, Scribble, Warp Effects
Editing not reapplying new effects
Expanding Appearance
PRINTING AND EXPORTING
Printing in Illustrator
Exporting in Illustrator
PDF options
Web Options